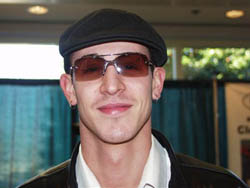 Joey Korsiak
The Joss NE 9-Ball Tour drew a field of 78 players to Renaissance Billiard Club in Quincy MA to take their shot at the $15,300 in prize money available.
Joey Korsiak made his way through the field to take the hot-seat with a 9-5 win over John Fernandes.
Fernandes then scored a hill-hill win over Tom D'Alfonso in the semi-finals to earn a rematch with Korsiak, but the finals went Korsiak's way 9-4.
Korsiak pocketed $3400 for first, while Fernandes took home $2400 for second. D'Alfonso and Ryan McCreesh filled out the top four spots.
The Joss NE 9-Ball Tour will be at Ultimate Billiards Club in Berlin, CT next weekend for a $5000 added event.
Photo courtesy of Diana Hoppe - Pool Pics by Hoppe
Complete Payouts:
1st Joey Korsiak $3400
2nd John Fernandes $2400
3rd Tom D'Alfonso $1700
4th Ryan McCreesh $1200
5th/6th Frankie Hernandez, Mark Ransom $800
7th/8th Jarrod Clowery, Carlos Vieira $600
9th/12th Joe Tucker, Jason Michas, Ian Costello, Hongsavady Vongxay $400
13th/16th Jose Parica, Mike Zuglan, Bob Hammack, Tony Ruberto $250
17th/24th Dave Fernandez, Chris Leal, Dave Hall, Rick Matarazzo, Teddy Garrahan, Alex Morin, Joe Cutler, Chuck Altomare $150