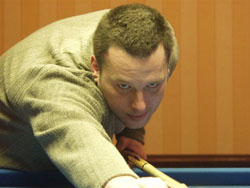 Dennis Hatch
Dennis Hatch avenged his only loss in the event and came back to defeat Joey Korsiak in the double elimination finals and win the Joss NE 9-Ball Tour stop at Hippo's House of Billiards in Yorkville, NY.
Hatch's loss to Korsiak for the hot-seat was a very one-sided one with Korsiak enjoying a 9-2 win.
On the one loss side, Hatch ran into Ryan McCreesh who has been laying waste to the left side of the board ever since his loss to Mike Zuglan on Saturday. McCreesh has just avenged that loss by eliminating Zuglan in 4th place. That win would have to be enough for McCreesh as Hatch took an early lead and held of a late McCreesh charge for the 9-7 win.
The first set of the double elimation finals was close early with both players tied at 4-4. Hatch then rattled off five straight wins for the 9-4 victory and a trip to the second set of the finals. In the second set, Hatch took an early lead and then held that lead on his way to a 9-6 win.
Hatch earned $1200 for first, while Korsiak took home $860 for second. McCreesh and Zuglan filled out the top four spots.
The Joss NE 9-Ball Tour will be at Action Billiards in Hamden, CT for their next event next weekend. Tour director Mike Zuglan wanted to remind all of the fans that the upcoming Turning Stone Classic VI 9-Ball Open on February 16th - 19th at Turning Stone Casino in Verona, NY takes place a non-alcoholic casino. This means that fans only need to be 18 to gamble and play in the casino.
Complete Results:
1st Dennis Hatch $1200
2nd Joey Korsiak $860
3rd Ryan McCreesh $650
4th Mike Zuglan $450
5th/6th Paul Thornley, Jim Forsythe $300
7th/8th Gary Empey, Milt Lewis $150

File photo courtesy of Diana Hoppe - Pool Pics By Hoppe