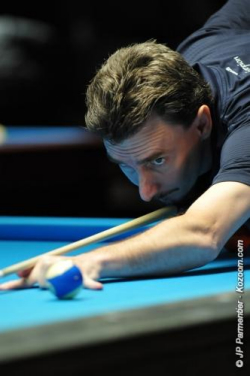 Johnny Archer
9-Ball players arrived today for the noon players' meeting and 1 o'clock start. 257 players came from all 50 states and 23 different countries.

A fun event that made it's return to the DCC this year was the One-Handed One-Pocket Mini. This event had not been a part of Derby since 2005, but made it's return thanks to added money rom Greg Sullivan and Steve Booth with Onepocket.org. The single-elimination field was limited to 32 players. The bridge hand was not permitted to touch the table but you were allowed to rest your cue on the table.

Parica almost scored himself another mini victory but could've used another hand against Dave Krenzel. Parica, freshly inducted into the one-pocket hall of fame at dinner that night, was feeling good and hitting them better. Krenzel defeated Jason Miller in the semi-finals to meet up with Parica.

1st     Dave Krenzel     $1,000
2nd     Jose Parica     $500
3rd     Jason Miller     $250
4th     Tony Mougey     $250
5th     Corey Radebaugh     $40
6th     Steven Hickman     $40
7th     Greg Sullivan     $40
8th     Josh Roberts     $40
 

The FatBoy 10-Ball Challenge continued with the final eight players. On the feature table, fans were treated to a late night delight between Francisco Bustamante and Johnny Archer. Archer, who was playing at a speedier than normal clip, was  feeling loose. He kept a four to five game lead for most of the match until 14-10 when Bustamante began closing the game to make it 14-13.

"The could've been a finals match. It was so good!" said event organizer Jay Helfert. Archer pulled out a phenomenal run to close out the set. Shane Van Boening was not so fortunate in his match against up-and-comer Shannon Murphy. At hill-hill, Van Boening missed a standard 9 ball to get on the 10, giving the set to Murphy, 15-14. The semis and finals will be featured in the Accu-stats arena.

Tune in to Accu-stats.com and TheActionReport.com for your live streaming action all week.

Also, make sure you check out the daily AZ Buzz newscasts on the 2010 DCC Coverage page, made possible by Horseshoe Casino Hotel Southern Indiana and CueSports International.