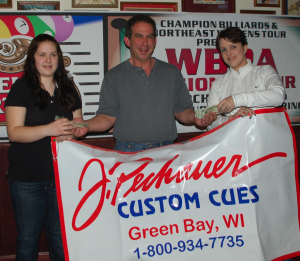 Briana Miller, Gary Allen (Owner - Champion Billiards & Sports Café) and Megan Smith
Congratulations to the 31 women who competed in this weekend's event. It was played in a wonderful room with more than 12 Gabriel and Olhaussen tables. The staff and food were fantastic . We appreciated our fans especially Rich and Kathy (the real regulars) and all the others including Mike Siegel. Thank you for your support Gary – we look forward to returning to you on May 1st and 2nd for the Maryland State Championship!
Briana Miller
and
Erin McManus
continued their winning ways of last weekend at the Super Billiards Expo and both steamrolled through Saturday to return on Sunday. Sunday's winner's side was rounded out by
Megan Smith
, Shanna Lewis and Neslihan Feliz. Also playing in the final eight were Sharon O'Hanlon,
Olga Gashkova
, and My-Hahn Lac.
My-Hanh was on a winning streak of six before she hit the wall of Briana Miller who was focused on the finals. Briana finished in second place after losing to Megan Smith in the finals 7-2. Congratulations Megan!
Photo courtesy of Dan Demaree