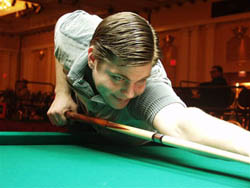 Mike Davis
Back at Hot Shots Billiards in Baltimore Maryland! The NE Players Tour stop #11 this past Sunday had three former winners of earlier events in attendance. Also present were the #1 point leader of the NE Players Tour and the #1 point leader of the Falcon 9-ball Tour. By the way, I personally want to THANK ALL the players for their participation under these unique circumstances and conditions of this event.
The winners' side final match saw two talented players shoot it out for the hot seat. Mike Miller from Easton, PA was matched up with Mike Davis from Frederick, MD. The battle of the Mikes saw 9-ball at its highest level. From one run out to the other Mike Miller made a critical mistake in game nine that cost him the chance of a repeat title. The final score was Mike Davis 6-4. Josh Brothers from Wilmington, DE awaited Mike Miller in the one-loss side. Josh's aggressive play propelled him over Mike Miller and set up the final match with Mike Davis. In the finals Mike Davis started the set with a 3-0 lead. Josh Brothers fired back midway through the set and closed in on Mike Davis 6-4. In the thirteenth game in the race to 9 finals, Josh Brothers unfortunately missed an opportunity to pull within one game. Never relinquishing the lead throughout the set, Mike Davis closed out the match 9-6.
Mike Davis started his pool career when he was seventeen in a small town in Pennsylvania. Playing in numerous amounts of handicap, open and professional tournaments seasoned him into a well-rounded professional pool player. Friendly, well spoken and talented, Mike Davis currently holds the #1 rank in the Falcon 9-ball Tour and is ranked #21 in the UPA Pro Tour. Mike Davis unfortunately does not have a Cue Sponsor or Billiard Company Sponsor. He is looking for a major sponsor that could provide a mutual partnership. Mike, congratulations in your recent win at the NE Players Tour and all your future endeavors. "I want to be just like Mike"!
I would like to THANK Sonny and all the staff at Hot Shots Billiards in Baltimore Maryland for a wonderful experience. By the way, you must try the Baltimore Crab Soup at Hot Shots. It's mm-mm good! Tour stop #12 is Sunday October 5th at Boulevard Billiards in Allentown, PA. See you there for the "Best Time Ever"!
Photo courtesy of Diana Hoppe - Pool Pics by Hoppe
Complete Payouts:
1st Mike Davis $550
2nd Josh Brothers $350
3rd Mike Miller $200
4th Phil Sherman $150
5th/6th Bob De Turk, Jimi Louis $75