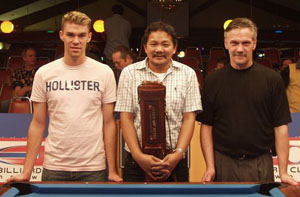 Corey Deuel, Efren Reyes and David Matlock
Efren Reyes finished a dominating week at the 2005 Derby City Classic by winning the 9-Ball Division with a 7-1 victory over James Baraks.
Reyes lost to Andreas Roschkowski in the 10th round, but came back with wins over George Breedlove, Baraks, Robb Saez, Mika Immonen and then Baraks again for the 9-Ball victory.
Reyes had locked up the 'Master of the Table' bonus prize of $20,000 early in the 9-ball event based on his win in the one pocket division and high finish in the bank division. David Matlock took second in the 'Master of the Table' race and Corey Deuel took third.
9-Ball Payouts:
1st Efren Reyes $13,484
2nd James Baraks $6,449
3rd/4th Mika Immonen, Robb Saez $3,342
5th Santos Sambajon $1,994
6th/7th Francisco Bustamante, Corey Deuel $1,642
8th/9th George Breedlove, Andreas Roschkowsky $1,349
We have five photo galleries online from Diana Hoppe and more pics to come soon. Gallery 1, 2, 3, 4, 5
Photo courtesy of Diana Hoppe - Pool Pics By Hoppe