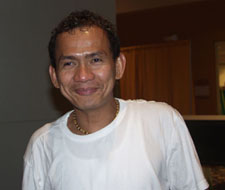 Santos Sambajon
Santos Sambajon made his way through a field of 46 other players and won the Joss Northeast 9-Ball Tour stop at Spot Shot Billiards in Portland, ME this weekend.
Sambajon took the hot-seat on Sunday with a 9-6 win over TJ LaFlamme, and made himself comfortable waiting for an opponent.
That opponent would be Carlos Vierra, who took the long way to the finals. Vierra lost his first match of the event to Chad Bazinett on saturday, and then proceeded to win 10 matches in a row to get to the double elimination finals.
Vierra won the first set of the finals 9-6, but the second set was all Sambajon as he scored the 9-3 win. Sambajon collected $1300 for first, while Vierra pocketed $900 for second. LaFlamme and Mike Zuglan filled out the top 4 spots.
The Joss NE 9-ball Tour will be at Pro Billiard Lounge in Rotterdam, NY April 26th - 27th for their next event.
Photo courtesy of Diana Hoppe - Pool Pics by Hoppe
Complete Payouts:
1st Santos Sambajon $1300
2nd Carlos Vierra $900
3rd TJ LaFlamme$700
4th Mike Zuglan $550
5th/6th Ian Costello, Shane Cottey $400
7th/8th Darren Belliveau, Chad Bazinett $255
9th/12th Dave Hall, Mark Ransom, David Rowell, Rick Mattarazo $125