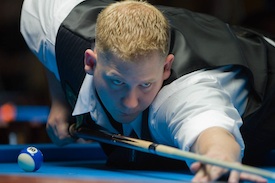 Brandon Shuff (File photo courtesy of Jeff Smith)
In every way but the final result, it was a virtual repeat of an earlier set of battles on the Action Pool Tour. In August,
Brandon Shuff
came from deep on the loss-side to challenge
Brian Deska
, sitting in the hot seat. Shuff took the opening set, but in a decisive, final match, double hill battle, Deska prevailed. At an Action Pool Tour stop on the weekend of December 10-11, Deska once again advanced to the hot seat, as Shuff worked his way through the loss-side toward a challenge in the finals. Shuff, once again, took the opening set (by an almost identical score), but this time, he prevailed in the second set to capture the event title. The event drew 56 entrants to Diamond Billiards in Midlothian, VA.
This time around, Shuff's path to victory spent just a little less time on the loss-side. He was sent west in a winners' side final eight battle versus
Shorty Davis
, who moved on to face Deska. Deska sent Davis over after Shuff with an 8-4 victory and in the battle for the hot seat, faced
Danny Mastermaker
, who'd defeated
John Newton
8-6. Deska sent Mastermaker to the semifinals with an 8-5 victory, and once again, awaited the return of Shuff.
It was Newton who moved west to face Shuff, who'd given up only four racks in 16 games against
Bobby Anderson
(one) and tour director
Ozzy Reynolds
(three) to reach him. Davis drew
Chris Bruner
, who'd defeated
Nil Bert
6-3, and Dave Hunt 6-2. Shuff dropped Newton 6-2, as Davis was defeating Bruner 6-3, and the quarterfinal re-match was on.
Shuff, who ended up winning three out of every four games he played on the loss-side, ended Davis' day with a 6-2 victory and then, gave up only a single rack to Mastermaker in the semifinals. The opening set of the finals against Deska differed from its August predecessor by a single rack. Shuff had won the first set in August 8-3. He took this first set 8-4, and then, in a shortened race-to-6 defeated Deska 6-4 to capture the event title.