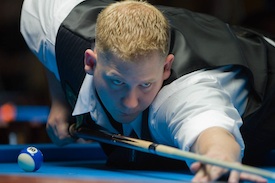 Brandon Shuff (File photo courtesy of Jeff Smith)
Brandon Shuff
and
Chris Futrell
faced each other three times in the Action Pool Tour stop on the weekend of June 9-10, and battled to double hill in all three matches. Shuff took two out of the three, including the second set of a true double elimination final to capture the event title. The event drew 58 entrants to Q-Master Billiards in Virginia Beach, VA.
The recipient of one of the six, first-round byes, Shuff gave up only four racks in his first two rounds of play, one against Daniel Choi and three versus
Brian Deska
, before running into Futrell the first time, among the final eight winners. Futrell gave up only five racks over three matches to get to that point, shutting out both Jackie Duggan and Anne Reynolds, before giving up the five in a match versus
Dwight Cherry
. In their first of three, Shuff advanced to the winners' side final four to face
Danny Mastermaker
, while Futrell moved to the loss side and began a five-match winning streak back to the finals. In the other winners' side semifinal,
Chad Pike
squared off against
Rafael Reyes
.
Shuff advanced to the hot seat match 8-6 over Mastermaker, and was joined by Reyes, who'd sent Pike west 8-2. Shuff sent Reyes to the semifinals 8-2, and waited in the hot seat for the return of Futrell.
Futrell moved to the loss side and immediately resumed his table domination, giving up only three racks in his first two matches, one against R.J Carmona and two versus
Cary Dunn
, which set him up to take on Pike. Mastermaker picked up
Bill Duggan
, who'd shut out
Jesse Figueroa
and battled Deska to double hill. Futrell and Mastermaker advanced to the quarterfinals with identical 6-2 victories over Pike and Duggan.
Futrell then chalked up two more 6-2 scores, over Mastermaker in the quarterfinals and Reyes in the semifinals, for a second shot at Shuff. In their second of two, it was Futrell prevailing in the opening set of a true double elimination final. In a reduced race to 6, Shuff came back to win the second set and secure the event title. In addition to Shuff's $800, first-place prize, the victory gave him a free entry to October's US Open 9-Ball Championships, valued at $500. The victory also kept him in the number one spot on the Action Pool Tour's rankings.
In a concurrently-run Second Chance Tournament on Sunday, Tuan Chau went undefeated through a field of 16 entrants. Chau's opening and closing matches were double hill battles, while in his three middle matches, he gave up only a single rack; to
Nil Lim
, in the hot seat match. Chau's opponent in the finals,
Paul Helms
, had been sent west by Lim in the second round of play, and won five straight, including a 4-2 revenge match against Lim in the semifinals. Chau prevailed in the double hill finals to take the top, Second Chance prize.