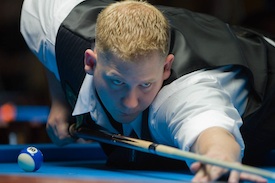 Brandon Shuff (File photo courtesy of Jeff Smith)
There was, according to
Brandon Shuff
, "a lot of b.s. in the finals" of the Action Pool Tour stop on the weekend of March 30-31. He was, of course, referring to his own initials, and those of his finals opponent,
Brett Stottlemyer
. Stottlemyer, currently ranked # 1 on the tour, came from the loss side to challenge Shuff in the finals, and although he just did win the opening set, Shuff won the second set to claim the title. The event drew 55 entrants to Q Master Billiards in Virginia Beach, VA.
Shuff downed Carmona 8-3 and in the battle for the hot seat, faced Lim, who'd defeated Mastermaker 8-5. Shuff dominated the hot seat match 8-2 and waited on the return of Stottlemyer.
Stottlemyer moved over and gave up only four racks over 16 games against, first Tim Colvin (6-3) and then, Kevin West (6-1), to pick up Carmona. Mastermaker drew Kressel, who'd gotten by
Dominic Noe
and
Bill Duggan
, both 6-4. Kressel spoiled Stottlemyer's hopes for a re-match against Mastermaker by defeating him 6-4, as Stottlemyer advanced with a 6-2 victory over Carmona.
Stottlemyer then dropped Kressel 6-2 in the quarterfinals, and got his shot against Shuff with a 6-4 victory over Lim in the semifinals. He entered those finals having won as many games on the winners' side as he had on the loss side (30). He gave up an average of five racks in each of his four winners' side matches, but reduced that average figure to just over two in his five loss-side victories.
Stottlemyer opened the two-set final with a double hill win, but was bested by Shuff 6-4 in the second set. Stottlemyer's second-place finish, combined with his participation in all seven of the stops to date left him atop the Action Pool Tour's rankings. Though Shuff, who entered the event ranked at #26 (on the basis of only two events; now three) moved up in those rankings, he'll need to win a few more to catch Stottlemyer.