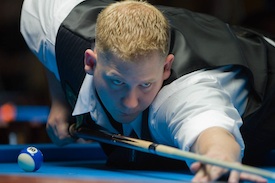 Brandon Shuff (File photo courtesy of Jeff Smith - heirloomportraitart.com)
Brandon Shuff became the second winner on the Action Pool Tour, which held its inaugural event in June, at the Top Hat Cue Club in Parkville, MD. On the weekend of July 9-10, the tour moved to Diamond Billiards in Midlothian, VA, where it drew 49 entrants.

Shuff got into the hot seat after a 9-4 victory over tour director Ozzy Reynolds, and a 9-2 win over Eric Moore. Moore had sent Brett Stottlemyer west 9-4.

On the one-loss side, Larry Kressel and John Newton made Stottlemyer's and Reynolds' visit to that side of the bracket brief. Kressel had been sent west by Moore from among the winners' side final eight, and was on a five-match winning streak that would propel him into the finals against Shuff. Kressel defeated Jeremy Perkins 9-5 and John Mitcheltree 9-2, before advancing to the quarterfinals with a 9-7 win over Reynolds. Newton, after a 9-7 win over Will Moon and a double hill victory over Danny Mastermaker, defeated Stottlemyer 9-6 to join Kressel in the quarterfinal match.

Kressel chalked up back-to-back 9-3 victories - over Newton in the quarterfinals and in a vengeance rematch, Moore in the semifinals - to earn a crack at the hot seat occupant, Shuff. In the opening set of what could have been a true double elimination final, Shuff prevailed 9-7 to avoid a second set and conclude his undefeated weekend.