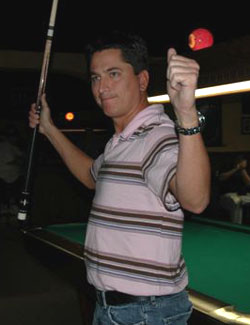 Stevie Moore
Stevie Moore may not be as much of a household name as some of the other players in the Viking Tour's Great Southern Classic, but the tournament didn't pay out prize money based on how easily a player was recognized. The prize money was paid out on Sunday based on ability at the table, and Moore proved he had more than enough of that.
Moore's undefeated path to the hot-seat included wins over Helena Thornfeldt, Jim Forsythe, Claude Marrier, Cliff Joyner, Brian Butler and Shannon Daulton. After a 9-6 Shannon Daulton win over David Grossman, Moore had an opponent in the finals.
The finals started out close with Moore taking an early 2-0 lead and Daulton fighting back to tie the match at 2-2. After that, Moore took his game to a different level and conducted an exhibition in 'run out' pool. With balls going in on almost every break, Moore ran out multiple racks as he won the next seven games to win the match 9-2.
Moore earned $6550 for first place, while Daulton pocketed $4200. Daulton's second place finish locked up the all-around 1st place of $3000, while Larry Nevel finished in second and earned $1500. WPBA star Monica Webb ran away with the ladies all around bonus of $500.
While the outstanding tournament play certainly drew a crowd of spectators, it was the wall to wall action at The Pool Room 2 that kept people there until the wee hours of the morning each day of this event. There are already talks of making this a yearly event at the very least.
Complete Brackets from all three divisions are online as well as a photo gallery from Diana Hoppe. Look for more pictures to be posted on Monday.
Photo courtesy of Diana Hoppe - Pool Pics By Hoppe