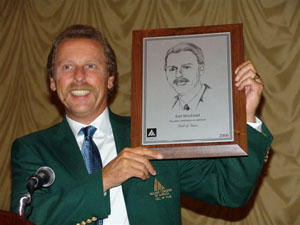 Earl Strickland
Earl "The Pearl" Strickland became the 50th inductee in the the Billiard Congress of America (BCA) Hall of Fame on Thursday evening. The five-time US Open and six-time World 9-Ball Champion was recognized in a formal ceremony at the BCA Expo in Houston, Texas. Strickland has never been one to hide his feelings and in fact he wears them on his sleeve, emotes whenever the mood strikes him and never minces words. On this warm gulf coast evening in a heartfelt acceptance speech his first words uttered from his lilting tenor southern drawl was, "I finally got your attention." He then continued by thanking those closest to him including his long time sponsor Janet Shimel of Cuetec Cues and Lou Sardo of The Sardo Tight Rack. "I feel great being inducted with such great players," Strickland said with sincere humility and no hint that the reality has sank in yet that he too is now recognized as one of those players.
And he deserves all the attention and accolades the award evokes and full respect for his contribution to pool and billiards. His has been a consistent, albeit controversial, career that spans over 25 years. He picked up a cue at nine years old, sharpened his game on back room races for the green and then turned professional at the ripe old age of 19. Strickland has been one of the biggest forces of nature in men's professional billiards since.
When asked, what was the most pivotal moment at the beginning of his career Strickland said quickly the match with Mizerak in 1983. "No one thought I would win the match," he added. That was the moment he left the world of obscurity to become a known name overnight within the pool community nationwide.
He is a passionate individual who will vehemently express his opinions openly to any and all in close proximity. He openly espouses the need for men's professional pool to have qualifying schools in a similar fashion as the Professional Golf Association (PGA) and would like to see the players be more united as a group of professionals such as exists in NASCAR.
He is a natural athlete who is highly talented also in golf and tennis and is passionate about his life and the sport of pool unequivocally. He still practices hard and when asked what motivates him still after all these years he said that working hard keeps him strong. Earl "The Pearl" Strickland was here and the game is better for it and we are better for having him