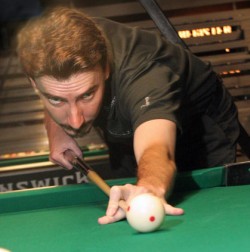 Johnny Archer
Alex Pagulayan, seemingly well rested after a good night's sleep, came out of the gate with his break working and his stroke dead-on as he defeated Johnny Archer 11-2 in the A-side final opening action in Calgary. The match was a fast 80 minutes.
At four o-clock, local fan favourite Edwin Montal and match underdog in the days line, played very fine pool in sending Philipine sensation Dennis Orcollo to the sidelines. Orcollo was definitely not on in a match that was marred in its opening few games by unforced errors and dry breaks.
Montal stayed in his seat for the start of his b-side matchup with Archer, who returned from his two-hour break in classic form. Montal remained in his seat for most of the match in losing to Archer 11/4. Again, the match was somewhat marred - this time by constant inconsistencies in racking and wing-balls to the long corner - but Archer made it entertaining for the crowd with his hall-of-fame-up-and-comer accuracy.
In a repeat match of their 2003 final in the same Olympic Oval in the tournament hosted by SML Entertainment - one fan claimed to have overheard another remarking "I saw this three years ago, Archer wins by four." - Archer dogged his obviously tired opponent through a merciless four-hour long trek through games ridden with unforced errors, dry breaks and a seeming inability on Pagulayan's part to put his safeties in a place where Archer couldn't pull off one of his stunning escape shots. Pagulayan played too long or too short too often to be able to stop Archer's steady run.
The Scorpion once again thrilled spectators with brilliant shot making, when he wasn't re-chalking his cue or re-dusting his hands or wiping off a rail. Archer takes home $12,000 for the 15/11 win.
Complete Results:
1st Johnny Archer $12000
2nd Alex Pagulayan $6000
3rd Edwin Montal $3000
4th Dennis Orcollo $2000
5th/6th Luc Salvas, Jason Klatt $1500
7th/8th Shane Van Boening, Stan Tourangeau $1000
9th/12th Eric Hjorliefson, Alain Martel, Robert Phillips, Tyler Edey $750
13th/16th PJ Massicotte, Mike Vidas, John Colak, Kim Davenport $500
17th/24th Kevin Osborne, Brady Golan, Willie Hernandez, Jordan Rothermel, Kevin Beavis, Paul Potier, Mike Stuart, Dan Louie $250

Photo courtesy of Christina Inez Ryan