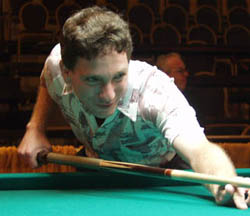 Tommy Kennedy
The SouthEast Open 9-Ball Tour was in action this weekend at Morey's Billiards in Charlotte, NC with a field of 39 players fighting it out for the $1000 in added prize money.
Tour director Tommy Kennedy almost pulled the come-back victory of the tournament early Sunday as he came back from a 7-2 score against BJ Ussery to win six straight games and take the lead 8-7. Kennedy would not win another game though, as Ussery took the next two games for the win.
Ussery's next match was against Ron Park for the hot seat, and again Ussery rushed out to a 7-2 lead. Unbelievably, Park then went on to win the next seven games to win the set 9-7.
After Kennedy beat Ussery 9-7 in the semi-final match, it was down to Kennedy and Park for first place. The final match started with Kennedy in the lead early, and Park fighting to get back into the match. Park caught up and stayed close to Kennedy, but in the end it was Kennedy scoring the 13-11 victory for first place.
The SE Open 9-Ball Tour will be at The Pool House in Doraville, GA next weekend for their next event.
Final results:
1st Tommy Kennedy
2nd Ron Park
3rd BJ Ussery
4th Chris Walsh
5th/6th Marvin Reed, TF Whittington
7th/8th Eddie Little, Katsu Masuda
Laura Benoit and Leslie Cooper tied for top female finisher.
Photo courtesy of Diana Hoppe - Pool Pics by Hoppe