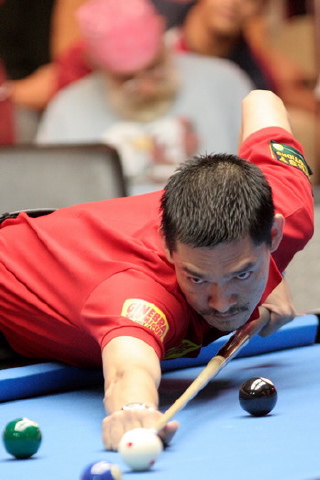 Ronnie Alcano
The country's top cue artists remain steadfast on their stand not to play in all event organized by Yen Makabenta and his cohorts, including the forthcoming Philippine 10-Ball Open late this month.

The players, who belong to the Billiards Managers and Players Association of the Philippines (BMPAP) led by Efren "Bata" Reyes, was reacting to the press release made by Makabenta's Raya Sport that three of their fellows – Dennis Orcollo, Ronnie Alcano and Warren Kiamco – will play in the tournament slated to start on May 27.

"We will not join that Philippine 10-Ball Open, especially with the condition set by its organizers that we must first sign a document that we are recognizing Mr. Makabenta's group as the legitimate Billiards and Snooker Congress of the Philippines (BSCP)," said the players in a joint statement.

"We cannot and we will not do that as we have already recognized the BSCP led by chairman Aristeo "Putch" Puyat and president Arturo "Bong" Ilagan, which is also the one recognized by the Philippine Olympic Committee (POC)."

In its press release, Raya said Orcollo, Alcano and Kiamco are slated to join the tournament and they made it to the main draw via the WPA rankings.

The three had already denied that they are joining, saying that they have not even received a formal invitation from the organizers.

The players suspect that the move was made to attract sponsors to the event.

"Isn't it unfair that they are using the names of top Filipino players to get sponsors, but it's the foreign players who they are giving appearance fees?" the players asked.