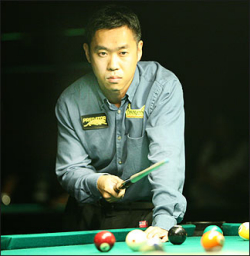 Charlie Williams
Elgin, IL - Francisco Bustamante (PHI), Charlie Williams(USA), and 2008 Player of the Year Mika Immonen(FIN) will challenge each other during the Predator Challenge Match at Hennessy's Steak & Seafood & Boogie Nights Retro Discotheque on February 5, 2009. Dragon Promotions will be producing this event along with other exhibitions in a series of showdown matches sponsored by The Predator Group's Predator Cues and Poison Billiards divisions.

The Predator Challenge Matches create excitement and interest in the local billiards communities we produce them in. Hennessy's Fine Dining is even more unique in the way they have organized a special dinner show for their clientele. These events are great because we can be flexible and encourage creative input with the host sites," said Cindy Lee, CEO of Dragon Promotions.

The evening will start off with a five-course dinner featuring the award winning house specialty, Lobster Hennessy with beef medallions on angel hair pasta. Afterwards, the audience will be invited upstairs as the three champions get ready for battle. The champions will perform a trickshot show, play with the VIP ticket holders, and then play each other a round-robin 10-Ball match.

The Predator Challenge Match host, Tom Karabatsos, has been able to keep up with the times and has sustained through different fads and economies. His latest venture Hennessy's is an upscale fine dining restaurant and nightclub that holds only three pool tables.

"The poolroom biz is a tough racket, so I have to keep up with what works and doesn't work in the current times. Right now I'm focused on the restaurant and nightclub side, but I still like to support professional pool. I love hosting world class pros like Mika, Charlie and Francisco and introducing them to a whole new clientele," said Karabatsos. Karabatsos has established himself as one of the premier billiard room proprietors in the US. He has opened up a total of five rooms since 1991 including Cue N You, Cuephoria, Cue Can Do, GCue, and On Cue Club. All have ranked in the nation's top 10 in various pool magazines and are known for their upscale feel and mainstream appeal.

Karabatsos is no stranger to the sporting side of pool as he has hosted events such as the Qualifiers for the Predator World Straight Pool Championships and sponsored players such as Filipino Champion Santos Sambajon. Karabatsos is also an established player with high finishes in major pro events. For more information contact Hennessy's Steak & Seafood & Boogie Nights Retro Discotheque at 847.844.3600 2300 Bushwood, Elgin, IL 60124. The event is near Chicago and only 20 minutes west of O'Hare Airport. Cost is $75 per ticket or $400 for groups of 8.

Visit http://www.hennessysfinedining.com/ & www.boogienightselgin.com

The event is co-sponsored by Simonis Cloth, Brunswick Billiards, and Master Chalk.

Predator Cues, an international billiards industry leader, is a high-performance, professional pool cue producer focused on developing revolutionary technology that enhances performance for billiards players worldwide. Headquartered in Jacksonville, Florida, USA, Predator Cues is a division of The Predator Group whose core brands also include Poison Billiards and Uni-Loc®. For more information regarding The Predator Group's products, visit www.predatorcues.com, www.poisonbilliards.com, www.uni-loc.com.