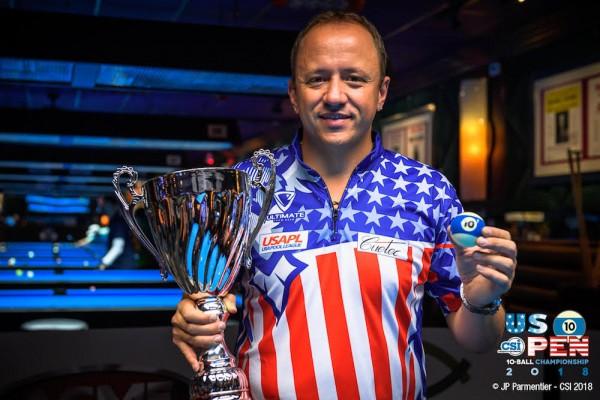 Shane Van Boening (Courtesy of JP Parmentier)
After being knocked to the loser's bracket in the third round,
Shane Van Boening
plowed his way through eight more matches to collect his third consecutive US Open 10-Ball Championship title.
The 2018 US Open 10-Ball Championship started Wednesday at Griff's in Las Vegas, NV with a field of 45, which included many of the best pool players in the world.
Van Boening, of South Dakota, had wins against
Chip Compton
, 9-4, and
Donny Mills
, 9-0, before being sent to the B-side of the bracket by Mosconi Cup hopeful
Mitch Ellerman
. But it doesn't matter where Van Boening sits in a bracket, or his competition ahead, don't count him out. Van Boening plowed through the loser's bracket to meet
Alex Pagulayan
in the finals. He posted wins against:
Josh Roberts
, 9-6;
Warren Kiamco
, 9-8;
Ian Costello
, 9-3;
Thorsten Hohmann
, 9-7;
Dennis Hatch
, 9-2; and
Eklent Kaci
, 9-6. Van Boening met Ellerman again in the semi-finals and cast his revenge, winning 9-3, to meet Alex Pagulayan in the finals.
But Van Boening's determination to win that third consecutive US Open 10-Ball title proved to be too much Saturday for Pagulayan, who fell, 11-2 in the single-race final.
Ellerman, of Las Vegas, made the most of his home-field advantage to make his way through the winner's side of the bracket, beating
Kurt Kobayashi
, 9-2;
Billy Thorpe
, 9-8; Shane Van Boening, 9-7;
Corey Deuel
, 9-6; and Dennis Hatch, 9-6, before losing to Pagulayan in the hot seat match, 7-9. Ellerman was unable to repeat the win over Van Boening in the semi-finals, losing 9-3, for a very respectable third place finish.
2018 US Open 10-Ball Championships results:
1 Shane Van Boening, South Dakota
2 Alex Pagulayan, Canada
3 Mitch Ellerman, Nevada
4 Eklent Kaci, Albania
5 Dennis Orcollo, Philippines
5 Dennis Hatch, Indiana
7 Thorsten Hohmann, Germany
9 Omar Alshaheen, Kuwait
9 Ian Costello, California
9 Corey Deuel, California
The US Open 8-Ball Championships started Saturday at 5 p.m. and continues through Tuesday at Griff's in Las Vegas. For live stream of the event, go to http://www.playcsipool.com/live-streaming.html.
For more information, photos, contact
Mary Coffman
, CSI Marketing Manager at 509-308-9814 (cell); or by email at maryc@playcsipool.com.