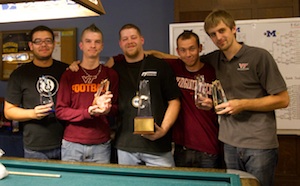 The Virginia Tech team (Photo courtesy of David Mudre)
The Virginia Tech Hokies have swept the UMTPC, dominating in all events and winning with 1820 points. Michigan hung on to second place scoring 815 points, despite a fourth place finish in the 8-ball event. Illinois United Nations placed third, with 790 points.
The final standings are as follows:
Virginia Tech-1820 points
Michigan- 815 points
Illinois United Nations- 790 points
Maryland- 560 points
Akron Gold- 300 points
Purdue Shrimp Chips 2.0- 280
University of Western Ontario- 250
Illinois Orient Express- 195
Virginia Tech's definitive victory in all three events marks the first sweep in UMTPC history. Congratulations!