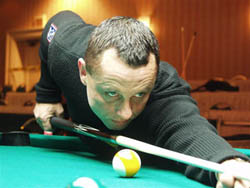 Ronnie Wiseman
As the saturday matches draw to a close at the 2003 Capital City Classic, the field has been narrowed to six players and will be narrowed to only four players starting play on Sunday.
Ronnie Wiseman will take on Corey Deuel for the hot-seat on Sunday. Wiseman closed out Saturday with a 10-5 win over Fabio Petroni. Wiseman never trailed in the match and was ahead 6-1 early.
Deuel's win over Jose Garcia was not as dominating. Garcia lead 8-4 but could not win another game from that point. Two scratches on his break and a missed 8-ball over the final six games doomed Garcia.
Petroni was facing 'Machine Gun' Luc Salvas and Garcia was facing Charlie Williams in the final matches Saturday night.
The final winner of this event will pocket $8,500.
Brackets are posted and will be updated all day Sunday, until a final victor is crowned.
Photo courtesy of Diana Hoppe - Pool Pics by Hoppe