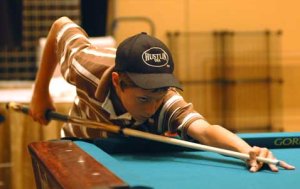 Austin Murphy
Day one of the NCS 8-Ball Championship is drawing to a close, and the theme of the day was the emergence of the young guns in the event.

Austin Murphy, Nick Tafoya and Tommy Tokoph all made it through day one without suffering a loss. These players are joined on the winners side by such notables as Mike Davis, Max Eberle, Mark Haddad and Jui-Lung Chen.

Top players still fighting on the one loss side include Oscar Dominguez, Jeff Carter and Brandon Shuff.

Play gets underway Saturday morning at 10:00 AM with all players in action at that time.

Follow all of the matches with our online brackets (presented by OB Cues) and watch select matches online at www.theactionreport.com.