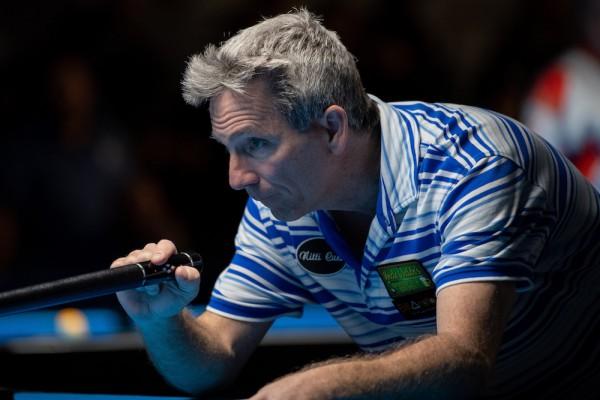 Tommy Kennedy (Photo courtesy of Erwin Dionisio)
Day two is complete at the International 9-Ball Open.
Morning matches on day two were one loss side matches, and the first group of players were shown to the doors. While most of those players were of the regional variety, two surprising names were eliminated with
Zion Zvi
's elimination of The Netherlands'
Marc Bijsterbosch
and Muhammed Alghumayz's elimination of Bosnia's Sanjin Pehlivanovic.
The evening session saw action on the right side of the board, and plenty of top players were sent to the one loss side. Alex Kazakis started the evening session on the TV table with a tough match against crowd favorite
Earl Strickland
. Strickland was much more subdued than normal, in an 11-9 loss to Kazakis.
John Schmidt
won a back and forth match with Poland's
Radoslaw Babica
. Babica took a 2-0 lead, but Schmidt then ran six racks for a 6-2 lead. Babica clawed back to 6-6 and the match eventually went hill-hill before Schmidt broke and ran the final rack for the win.
Shane Van Boeing remained undefeated, but was tested by Russia's
Maksim Dudanets
. The final score of 11-7 does not accurately represent how close this match really was. Ko Pin-Yi was also tested, in a hill-hill match against
Phuc Long Nguyen
from Vietnam. Nguyen led the majority of the match, but Ko buckled down to earn the late win.
Tommy Kennedy
surprised the large number of Filipino players and fans in his day two win over
Johann Chua
. Chua had been in action all night and looked to be dialed in at the start of the match, but Kennedy quickly took control and ran off to an 11-6 win. When asked about his success in this event, Kennedy was his usual humble self. "I want to win this event, of course, but I really want to just cash for my sponsors" Kennedy said. Kennedy has an appointment with Van Boening on Tuesday evening, and the winner will be in the money.
In the final match of the night, recently converted southpaw
John Morra
took on
Brandon Shuff
. Morra had considered quitting the game due to physical issues related to his left eye dominance. Instead of quitting though, he converted in May to shooting the majority of his shots left handed. (He still breaks right handed). While Morra considers his game to be about 70% of what it used to be, that was just enough to earn him an 11-9 win over Shuff. Morra will face
Corey Deuel
on Tuesday.
Day three see's a number of marquee matches. Those matches include…