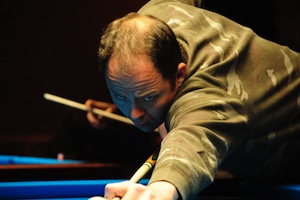 Jeremy Jones
Only three days remain at the 13th Annual Derby City Classic. The action continues as the One-Pocket Division shrinks to the final eight players. Currently in the lead for the title of Master of the Table are "The Lion"
Alex Pagulayan
,
Jeremy Jones
,
Shannon Daulton
, and
Ronnie Alcano
, who is the only one of the four that is eliminated from the one-pocket event. Pagulayan and
Scott Frost
are the two players that still have buy-backs available. Jones is having a great tournament. His best finishes at Derby in the past have been a 2009 third place finish in the one-pocket and a 2000 sixth place finish in the banks. He would love to take home a giant all-around check.
Round two of the Fat Boy 10-Ball Challenge continues. The match between
Rodney Morris
and Neils Feijen was postponed until the morning due to Feijen's back-to-back matches in the one-pocket event.
The high runs for today's straight pool challenge were
Danny Harriman
with 72,
Johnny Archer
with 71, and
Mike Davis
with a 69. The top three highest runs of the day receive $300, $200, and $100 for their efforts. The top eight high runs that will advance to the 8-player single-elimination bracket are
Darren Appleton
(183), Mike Davis (146),
Corey Deuel
(125), Feijen (102),
Beau Runningen
(96), Alex Pagulayan (81),
Dennis Orcollo
(74), and
John Schmidt
(73). At the last minute today, Archer took his attempts to finish with a 71, just shy Schmidt's 73. Danny Harriman also showed up and took his twelve attempts, missing the cut by one ball. The 8-player tournament begins tomorrow.
Tune in to Accu-stats.com for your live streaming action all week. The AzBilliards 2011 DCC Coverage page was made possible by CueBallTracker.com and PoolDawg.com.