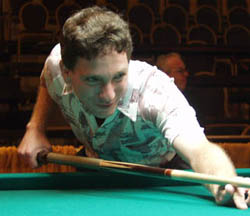 Tommy Kennedy
Tommy Kennedy took a break from running the SE Open 9-Ball tour to win the second stop on the Florida Men's Pro Tour; The Space Coast Pro Open at Players Billiards in Melbourne, FL.
The hot-seat at the event was captured by tour director John Ditoro, who beat John 'Stoney' Stone 9-5. Kennedy then handed Stone his second loss and forced him to watch the finals from the bleachers.
The final match was a classic as Ditoro jumped out to a 5-0 lead over Kennedy. Kennedy then took control and ran six racks for a 6-5 lead. Kennedy stopped the string of racks for a safety in the next game, and then ran that rack and the next two for a 9-5 lead. Ditoro then stepped to the table and ran 4 racks to knot the match at 9-9. The next two games went to Ditoro as he captured an 11-9 lead. An empty break by Ditoro let Kennedy back in to the match where he took the lead back at 12-11. Ditoro took the next game to tie the match at 12-12, but again came up empty on the break and was unable to do anything to stop Kennedy as he ran the final rack for the 13-12 win.
Kennedy won $3,000 for first place, while Ditoro won $2,000 for second. Stone and last month's winner Charlie Williams filled out the top four spots. 18 year old Nathan 'The Kid' Rose posted a strong 7th place finish.
John Ditoro wanted to express a special thanks to the Seminole Tribe of Florida who is the title sponsor of the Florida Men's Pro Tour. A big thanks also goes out to Pechauer Cues who donates a top of the line cue to each room owner on the tour this season.
The Florida Men's Pro Tour will be at Planet 9-Ball in Tampa, FL for the Planet 9-Ball Pro Open next weekend.
Complete Payouts:
1st Tommy Kennedy $3000
2nd John Ditoro $2000
3rd John Stone $1500
4th Charlie Williams $1175
5th-6th Rodney Morris, Ray Martin $900
7th-8th Nathan Rose, Buddy Hall $650
9th-12th Joe Giaccone, Glen Olson, Adam Wheeler, Ron Park $400
13th-16th Jim Sandaler, Eric Baker, Richie Richeson, Wayne Catledge $275
17th-24th John Lang, Josh Degler, Corey Penrod, Randy Epperson, Lee Wortman, Mel Rowe, Dave Grossman, Dan Christian $175