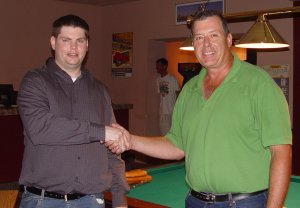 Mike Davis
Castle Billiards hosted the Blaze 9 ball tour 16th stop. A strong field of 41 players came out to play. Player like Points leader Mike Davis, Matt Krah, Zion Zvi, Steve Lillis, Eddie Abraham, Shaun Wilkie, Paul Robinson, and Wali Muhammad to name a few.
Leading on the top half of the bracket was Mike Davis with wins over Rob Pole 7-4, Mike Figueroa 7-2, Jerry Tarantola 7-2, Matt Krah 7-3, Shuan Wilkie 7-5. Leading the bottom half of the bracket was Paul Robinson with wins over Carmen Lombardo 7-6, Wali Muhammad 7-3, Scott Evans 7-6, Mike Fingers 7-4.
Playing for the hot seat was Paul Robinson Vs Mike Davis, this was a good match that went back and forth with Mike Davis pulling away towards the end winning the match 7-4. Paul Robinson went to the one lost side where Matt Krah was waiting, Paul took control of the match from the start winning the match 7-3 sending him to the finals for a rematch agains Mike Davis.
In the finals it was a one man show with Mike Davis running away with the match 9-2.
Complete Results:
1st Mike Davis $730
2nd Paul Robinson $500
3rd Matt Krah $350
4th Scott Freeman $275
5th Mike Fingers $200
5th Shaun Wilkie $200
7th Billy Kirshner $150
7th Scott Evans $150