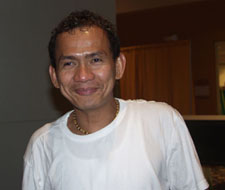 Santos Sambajon
Santos Sambajon went undefeated through a high quality field at the Joss Northeast 9-Ball Tour stop at Golden Q Billiards in Elmhurst, NY over the weekend.
Sambajon cruised through the winners side untouched, and won the event with a 9-5 victory over Jose Parica in the finals. Sambajon collected $1200 for the win, while Parica settled for $800 in second place prize money.
Evgeny Stalev and Jarrod Clowery filled out the top four spots.
Tour director Mike Zuglan apologized to the players at the event for his mistake in the promoting of the event. The event was a $1500 added tournament, but it had been billed as a $2000 added event by mistake.
The Joss Northeast 9-Ball Tour will be at Diamond Billiards in Lancaster, PA on March 15th - 16th for their next event.
Photo courtesy of Diana Hoppe - Pool Pics by Hoppe