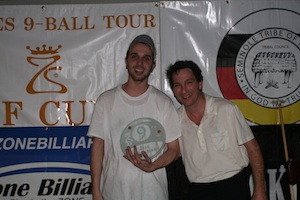 Justin Hall and Tommy Kennedy
Strokers II, Tampa was the venue for the latest KF Cue tour event.
Saturdays $1000 Added Amateur event had 41 players show up in Tampa for a piece of the $2170 pot. The Amateur event was guaranteed another new winner with
Jerry Troy
and
Todd Anderson
both making their way to the finals.
Anderson went undefeated to capture his first hotseat with strong wins over Michael Pardon 7-2, Travis Lasswell 7-2,
Jeremy Aurswald
7-3, Thomas Giorgin7-1 and then a tough 7-6 win over
Jason Richko
to put himself in his first final on tour. On the one loss side room owner Jose Del Rio was looking strong after taking a first round loss to Jimmy B Dean would win 6 matches on the spin before running into Jerry Troy who would send him home in 7th place. Troy who had also taken a loss in the 3rd round to Jimmy B Dean was looking strong as he would 7 matches on the bounce which included wins over
Wesley White
5-4, Lincoln Seiffert 5-0,
Louie Smith
5-1, Jose Del Rio 5-3, Thomas Giorgi 5-4,
Han Berber
5-3, and then a 5-2 win over Jason Richko to put himself in the final to play Anderson. This would guarantee another new winner on tour which would make 10 different winners in 11 events with Mike Delawder being the only player to have won two events.
Jerry Troy who had taken the hard route to get this far came out firing all cylinders in the final and eventually ran out a comfortable 8-4 winner to take his first KF Title.
Sunday would see 37 players show up which included 7 ladies for a shot at the $1000 Added open event.

On the day Tommy Kennedy who has been one of the most consistent players on tour would prove once again he is still a force in the pool world by going through the winners side bracket undefeated to capture the hotseat with strong wins over Hunter Lombardo 7-6, John Hutchinson 7-4, Louis Altese 7-4, Mike Davis 7-4 and then a 7-4 win over Justin Hall to take the hotseat.
On the one loss side Louis Altes who took an earlier loss to Kennedy was looking to try and get a revenge match with Kennedy with wins over Han Berber, Hunter Lombardo,
Lee Holland
,
Tony Crosby
before taking his second loss on the day to Justin Hall 6-4 to finish 3rd and set up a Hall Kennedy final.
The final was one way traffic with Hall dominating this match and kennedy never getting much chance to get going, Hall would come out a comfortable 9-2 winner to take his 2nd win of the season. With 7 ladies in attendance top two ladies would get in the cash with
Jessica Barnes
finishing Top Lady $40 and Marina Souza 2nd $20.
We would like to thank Strokers pool room and its staff for hosting another great event.
Our next event will be at Island Breakers Sports Bar, Merritt Island Fl, 3/27/10, played on Brunswick Gold Crown 8ft tables. This room was recently voted as one of the top 6 rooms in the country and when you visit you will see why.