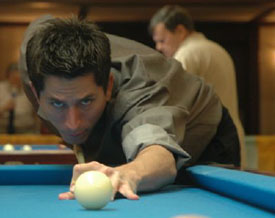 Stevie Moore will take on Efren Reyes in round 12
Eleven rounds of play are complete in the Derby City Classic Banks Event and the original field of 470 players is now down to just three. Efren Reyes, Rodolfo Luat and Stevie Moore still have hopes of winning this event and taking an early lead in the Master of the Table competition. Reyes is the only player who still has a buyback available. The matches are already drawn for round 12 and Rodolfo Luat got the bye. Efren will play Stevie Moore in round 12. The banks finals are scheduled for 9pm Monday night on the Billiard Club Network TV Table.
The TV table will also be the site for a ring game tonight featuring Jose Parica, Johnny Archer, Corey Deuel, Francisco Bustamante and Dennis Orcollo. Orcollo was the man on Sunday night as he competed in a ring game with Jon Hennessee, Sparky Ferrell, Richie Orem and Corey Deuel. Orcollo broke and ran five racks and that was the end of the ring game.
The one pocket division started on Sunday with 416 players competing. The first round of the one pocket is complete and the second round is underway now.
Tickets are still available for the Onepocket.org Hall of Fame dinner at 6pm on Tuesday. Anyone interested in attending should contact Steve Booth at Onepocket.org.
We have complete results from the first eleven rounds of the banks event, and will have the first round of One Pocket Results online later tonight. We also have two photo galleries from Diana Hoppe who is at the event. More pics will be posted later today.
Banks Results 1 | 2 | 3 | 4 | 5 | 6 | 7 | 8 | 9 | 10 | 11
Photo gallery: 1 | 2
Photo courtesy of Diana Hoppe - Pool Pics by Hoppe